Dear Embarrass the Alligator readers,
This is the longest time between newsletters I've probably ever taken. In April, I drove to Dallas to help care for my 89-year-old mother after she fell and suffered a bleeding stroke from taking Coumadin, a blood thinner. Just as I was preparing to head back to Amarillo thinking Mom was settling into a 24-hour-care home, she died suddenly. Until the first of August, I've put in long hours helping distribute her possessions among her heirs.  So instead of taking about a month as I expected, this final journey with my mother consumed four months of my life.
I took my turquoise hats to Dallas to help cheer up Mom in rehab. In my favorite picture,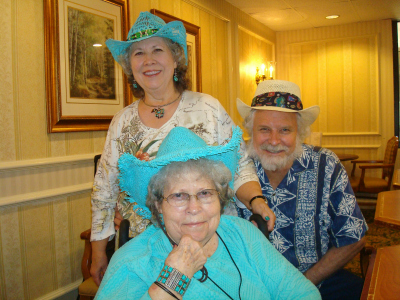 Mom asked me to bring her turquoise jewelry, and she wore her turquoise top. She posed for her therapist to take our picture together before beginning the slow walk to the therapy gym.
When we checked Mom out of rehab, the social worker asked, "How am I going to survive without my daily Ocie-and-Patsy fixes?" Read how my mother blessed me with a healthy attitude toward sex.
A huge teaching door opened in February
Just prior to these events a huge door had opened to do some massive teaching. Due to Mom's circumstances, I thought I was going to have to let it slide along with finishing my Song of Solomon book, sending out the newsletter, and doing the radio program.
But while I focused on going to rehab every day for six weeks to encourage Mom, YourTango repurposed articles from my website to theirs. Each Tuesday they posted a new article, a total of 12, for their 13 million monthly readers.
Thus, while I took care of my mother, they propelled me along to meeting a goal I shared previously with you—being a serious spokesperson regarding Fifty Shades of Grey when the movie comes out February 14, 2015. The recent release of the movie trailer spiked a new frenzy in book sales and excitement about the movie. E. L. James, the author, is busy promoting her new line of sex toys for Christmas. And so it will be until the movie shows…and long after…. My YourTango article released the week of the movie trailer is entitled Is '50 Shades of Grey' Fueling a New Sexual Revolution?
Now I'm turning my focus to finishing the editing on my book The Song of Solomon Love Triangle: God's Soulmating and lovemaking guide to prepare you for a lifetime of passionate sex. And YourTango is continuing to repurpose articles to keep the momentum going. We'll add new content along taken directly from my Song of Solomon book.
Then in October, I'll go to Manhattan to film six videos with YourTango on the Song of Solomon. We'll put out some teasers about my next book 21 Reasons God Wants You to Love Passionate Sex: Explore the power of the brain and the role of the hormones for passionate lovemaking. The videos will get wide exposure through YourTango's distribution partners. Plus I can use them on my website and YouTube channel.
"And who is YourTango?"
That's the question I asked when one of their representatives emailed saying she'd been to my website and wanted to invite me to be one of their experts.
I had been researching various public relations companies for about four years and wasn't happy with what I was finding. While YourTango's platform helps experts achieve their PR goals, it is so much more. YourTango attracts readers to blog posts written by counselors and healing professionals in areas of sex, relationships, parenting, faith, friendships, reducing stress, and more. At the same time, YourTango partners with leading news groups which provides immense media exposure and attracts more readers. More about what YourTango does for experts.
"Look on the fields, they are white for harvest!"
When Jesus turned to teaching the Gentiles, he admonished his disciples, "Do you not say, 'There are yet four months, and then comes the harvest'? Behold, I say to you, lift up your eyes and look on the fields, that they are white for harvest" (John 4:35-36).
In my YourTango article comparing Christian Grey with Christianity, I summarized:
"Until God's people learn how to possess their own sexual vessels in sanctification and honor that rejoices in God's creation, Fifty Shades of Grey will continue to ensnare lonely men and women starved for affection."
In 2012 YourTango had 5.2 million visitors and doubled that in 2013. Now in 2014, over 13 million visitors search monthly for answers to their problems. YourTango's targeted audience is people who are hurting and searching for help. They want a professional who understands their pain.
I asked, "Will I be censored? My writing is full of quoting and dissecting scriptures." The answer was no, and in the 12 articles they've published, I've not been restricted at all.
When I asked if there was a place on YourTango for me when my heart is in the Bible and I go to it as the foundation of my teaching, I received this answer:
"People are looking for a faith-based voice. They want a relationship with both God and sex—they want both…. There is no one like you, for you are compelling, intriguing and…shocking. Your voice is so incredibly unique, you are fascinating."
As I have traveled about the country for over two years preparing myself for this work, I found that, indeed, the fields are white for harvest. For the most part, the Gentiles' vision of God is seen through the murky, clouded lenses provided by inhibited, unloving Christians whose lives deny the mark of a Christian as Paul stated in 1 Corinthians 13:1-3:
"If I speak with the tongues of men and of angels, but do not have love, I have become a noisy gong or a clanging cymbal. If I have the gift of prophecy, and know all mysteries and all knowledge; and if I have all faith, so as to remove mountains, but do not have love, I am nothing. And if I give all my possessions to feed the poor, and if I surrender my body to be burned, but do not have love, it profits me nothing."
Indeed, it is shocking to most people when a Christian woman boldly says, "God loves passionate sex and wants to teach you how to enjoy passionate lovemaking for a lifetime." And non-Christians find it intriguing and want to know more. But rather than being compelled to learn how to love from God, many Christians, turn up their noses and say, "Something must be wrong with Patsy if she likes sex."
I conclude this letter the same as I did my YourTango article:
God saves the best sex for Christians
God has preserved a whole book of the Bible—the Song of Solomon— as his soulmating and lovemaking guide to prepare us for a lifetime of passionate sex. And if Christians understood this fascinating love triangle as they should, we would not be witnessing millions of women being taken advantage of by fifty shades of phony sensationalism. Instead of laughing at the sexual ignorance of Christians, the world would be asking, "How is a vaginal orgasm possible?" We'd be living and teaching about SPEAKING GOD'S BEAUTIFUL LANGUAGE OF LOVE™ which transcends words.
Sadly, too many Christians are terrible lovers and sexually illiterate themselves; and thus, ripe for becoming the laughing stocks of bloggers. To God, in whose mind sexual love originated, to him be the glory and the power forever and ever—Yes! Especially in the bedrooms of those who dare to love and serve him with all their minds, souls...and bodies.
Read more: http://www.yourtango.com/experts/patsy-rae-dawson/why-50-shades-grey-fans-laugh-christians#ixzz39iGMQIb0
I covet your prayers
I'm not foolish enough to think I've achieved this success on my own or that I can accomplish these goals through my own efforts. I covet your down-on-your-knees prayers to our God for continued good health, wisdom, and courage to speak his wonderful truths as I labor to share his great love for us--Christians and non-Christians alike--as I walk through this door he's so graciously opened for me.
Always in God's service,
Patsy Rae